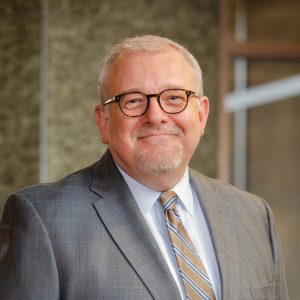 Little Rock, Ark. (March 4, 2022) – The Arkansas Department of Commerce has named Jim Hudson as its chief of staff. Hudson replaces Betty Anderson, who served as the department's first chief of staff since being named in July of 2019 and recently retired.
Hudson came to the Arkansas Economic Development Commission (AEDC), a division of the Department of Commerce, as general counsel in January of 2019. In July of 2019, he was promoted to executive vice president of operations and general counsel, and in November of 2020 he joined the executive team as director of strategy and operations, while retaining his AEDC duties.
As chief of staff, Hudson will work to align the activities of the nine divisions within the Department of Commerce's divisions in support of the priorities set by Governor Asa Hutchinson and Secretary of Commerce Mike Preston.
"Jim is the ideal choice to be the Department of Commerce's chief of staff," Preston said. "He has a strong track record of operational excellence, risk management, and developing strategies that drive results. He's been a constant and thoughtful advisor to AEDC and all of Commerce since he came on board in 2019 and is dedicated to carrying out the department's mission and serving the people of Arkansas."
The commerce department was established in July 2019 as part of the governor's efforts to transform state government and reduce 42 cabinets to 15. It is the umbrella department for workforce and economic development drivers and includes nine divisions that were once stand-alone government agencies.
"I want to thank Secretary Preston for the opportunity to be the next chief of staff for the Department of Commerce," Hudson said. "It has been a privilege to serve the people of Arkansas as a member of the Economic Development Commission and these new responsibilities will allow me to continue that service. The best part of my new role is the opportunity to work alongside the tremendous staff of the Department of Commerce as we seek to improve the quality of life for all Arkansans."
Prior to joining AEDC in early 2019, Hudson spent more than 25 years in executive leadership positions with Arkansas-based for-profit and non-profit organizations. His executive leadership includes serving as pastor of adult ministries at Fellowship Bible Church; vice president, general counsel, and corporate secretary at Technisource Inc.; and general counsel at Staffmark Inc. He also worked in private practice and served in various human resources and legal positions, and he has held an Arkansas law license since 1996.
Hudson has a bachelor's degree from Hendrix College in Conway, a juris doctor from the Bowen School of Law in Little Rock, a master's degree in leadership from John Brown University in Siloam Springs, and a Master of Divinity from Southern Seminary in Louisville. He is a lifelong Arkansan and currently resides in Saline County with his wife, Leigh.